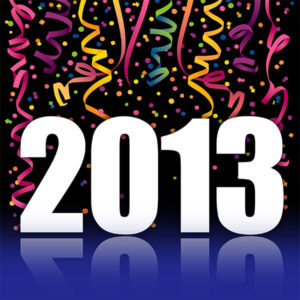 I hope that everyone had a happy and safe New Year's Eve last night. I was just like to say Happy New Year to you all and thank you for making my journey in 2012 a great one. Thanks to everyone who bought Zeus, Inc. and to everyone who has reviewed it!
Also, thank you for encouraging me to continue with the story. As of today, I am starting re-writes on The Curse of Hekate and I could not be more excited. I took a month off after NaNoWriMo to clear my head and do nothing but take notes about the story and things I need to work on and I feel it will be a stronger novel because of all that time I put into just that.
However, I am still wanting to work on The Book of Revelations. I've taken notes here and there for that, so I'll get back to it once Curse is completed. Those characters are begging me to let them out of the closet I put them in.
So what does 2013 hold in store for me? Well, for starters, in February, there is the annual Gallifrey One convention in Los Angeles. It's a huge gathering of Doctor Who fans and is almost a lot of fun for me. It's also an opportunity to hand out cards to continue to promote Zeus, Inc.
Yesterday, I applied for a press pass (via RantGaming and FanGirlConfessions) for Geek Girl Con, to be held in Seattle in October. I plan on flying up early and spending a few days in Seattle (as I have several friends there) and then taking the train from Seattle to Vancouver to spend time with yet another friend. Both are places I've always wanted to visit, so I decided to stay in the country this year (well, technically, Vancouver is in Canada, so that's still a new stamp for my passport). I've begun to make some tentative plans for that trip, but as I've already earned the miles on my AAdvantage account for it, it's pretty much a done deal.
So far, 2013 is looking good. I hope that you, too, have many wonderful things to look forward to this year. And if you don't, MAKE wonderful things to look forward to. To quote a tweet that I saw yesterday (from James Moran, who always has a way of summing things up perfectly):
Whatever you do in 2013, make some art. Write a story, sing a song, do a video, start a blog. Just give us some of YOU.

— James Moran (@jamesmoran) December 31, 2012