Today I had tickets for the Dublin hop-on hop-off bus tour. I wasn't sure I would like it, but it was very convenient and the buses run so regularly that I never had to wait for one. I ended up making two loops around the city because I was told to go to Kilmainhaim Gaol first as the tours book up fast and you can't pre-book. So that's what I did. I went to jail.
It wasn't as oppressive as I thought it would be, but then again, it was a reform jail when they decided to let prisoners have things like food, light and exercise. However, it was extremely educational. I've learned about Irish history all week, but now I feel like I truly have a good understanding of the Irish struggle for independence from England and the persistence of the Irish that finally achieved that for them. The guide really did a great job of helping me keep it all straight, because it was more than just the one uprising (the Easter one) and there was even a Civil War amongst the Irish people. It's such a turbulent history, but I think it really shines a light on the fact that the Irish fought long and hard to be free of English rule and good for them.
With my head full of history, I decided it was time to get my head full of art. So I hopped back on the bus and visited the National Gallery of Ireland, the only museum in Dublin that's actually open on a Monday. I ate at the cafe there, and, unfortunately, the meal was rather forgettable. I had a shepherds pie with yet more potatoes on the side and some vegetables. It wasn't horrible, but it wasn't great, either. But that's how museum food usually is: it's either great or it's not.
The museum itself, though, was surprising. The collection is small, but features some things I loved, like some works by Rodin, as well as some I'd never seen before, but fell in love with, like a painting called "The Cottage Girl" by Thomas Gainsborough. It's a lovely work, and I even bought a magnet of it for my fridge. It was just so hauntingly beautiful.
After getting my fill of art, I decided to get right with God and visited St. Patrick's Cathedral, which is much more beautiful (in my opinion) than Christchurch. There are also no mean-spirited cats protecting the grounds. From the stained glass to the final resting place of Jonathan Swift, who served as the church's dean, it really surprised me with its grandeur. It was gothic, but also Irish at the same time.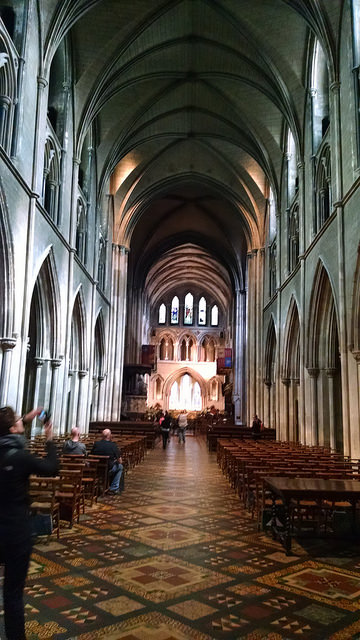 I walked around the corner to check out Marsh's Library. Apparently, not too many tourists find this place, but I'd read about it in advance and being a writer, of course, I was going to visit it. It has the word "library" in its name. Actually, it's a library from the 1700s, all with its original books. You can't touch anything or take photos, but I wish I could describe the smell of the place. It was that wonderful old musty book smell: the kind of smell that screams HISTORY. I loved it. Some of the books had bullet holes because the English once fired upon the building (THE AUDACITY). Here, I also tried my hand at signing my name with a quill. Strangely enough, I did very well.
After the museum, I needed a snack, so I hopped on the bus again and started my second loop around, arriving at Ryan's Victorian Pub. Ryan's is a famous Victorian pub, established in 1886, and has this wonderful oak bar that just screams atmosphere. And, a lot of famous people have been here, including President John F. Kennedy. I ordered myself an Irish coffee (I needed the pick-me-up) and a slice of chocolate tarte. Both were wonderful, but most wonderful was the bartender who was singing Christmas songs and dancing around the pub. Now THAT'S Ireland!
My day, however, wasn't over. I still needed to buy some things for myself. And because the bus tour included some coupons, I hit Nassau Street and then Grafton Street. I ended up buying quite a few lovely things, including a nice cowl scarf that I won't be wearing for awhile because it's not cold back home, and some Irish perfume that smelled so nice and a silver Celtic ring, among other things.
With my day over, I went back to my hotel room to drop off my things and decide dinner. As a restaurant called Fire tweeted me a few weeks back and asked me to check them out, I thought I might. They're sort of a steakhouse, so it really wasn't a tough decision. They're also located in a historic building called Mansion House. I had the best rib-eye I've ever had in my life, along with some chips and salad, pairing it all with a glass of French merlot. I don't know why, but I love a good merlot with steak. I wasn't going to have dessert, but the waiter handed me the dessert menu, and I was too tempted not to. I settled on something "light," some strawberries soaked in liqueur in a thin tart shell with clotted cream. It was a nice light dessert, but still extremely yummy. I have a weakness for clotted cream, which is something you just can't find in the U.S.
So satiated, I came back to my room to type this and mourn that tomorrow is my last day here in Ireland. I do want to return someday, and probably, will, though. However, I miss home and my friends and my cats and my writing, and that's actually quite nice – to have something to look forward to in returning home. I think maybe that's part of the purpose of traveling.