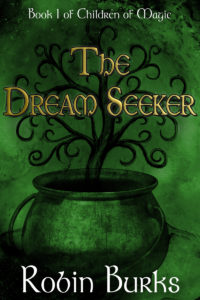 What if your dreams were the key to unlocking magical powers?
Alessa Grey is just an awkward teenage girl until the day she discovers that her dreams – and magic – are real. But just as Alessa is about to realize her full magical potential, a dark god invades her dreams in search of an ancient artifact that will give him the power to bring others like him to the world, and start a war that would ultimately destroy everything – and everyone – Alessa loves.
Written by Darrell Awards Coger Hall of Fame recipient Robin Burks, The Dream Seeker is ultimately a story about a teenage girl finding the courage to face her fears and save the day, all while dealing with loss, betrayal, and first love.
A thrilling adventure through a world of magic fueled by dreams for fans of Neil Gaiman's The Books of Magic, Lev Grossman's The Magicians, and L.J. Smith's The Secret Circle.
Digital Available Now At:
Print Available Now At: