My Seattle journey did not end with GeekGirlCon. It continued with several days of tourist activities, which involved… you guessed it… more eating. I'm a foodie who lives in a small town in the Midwest. So you can imagine how I like to indulge when I travel somewhere that actually has great fresh food that doesn't come from McDonald's, Arby's or the local greasy spoon. However, I did some other touristy things, as well, I promise.
First up, Seattle is an amazing city. It's full of geeks, nerds and outcasts. To say I was amongst my people would be an understatement. I even entertained the notion of moving there, but the whole "I need money to that" argument, unfortunately, talked me out of it. But yes, I loved the city that much. I loved the people. And yes, I even loved the cloudy and foggy weather. Especially considering it was warmer there than it is here in the Bootheel of Missouri!
My first tourist activity was to visit Pike Place Market. But first, I needed breakfast. Being an Anglophile, I obviously had to stop at a place called The Crumpet Shop and have tea and a crumpet: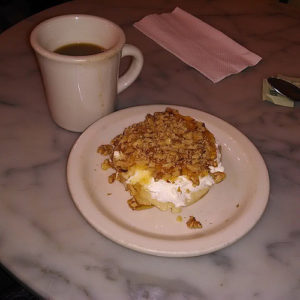 Apparently, crumpets don't come with toppings like walnuts, honey and ricotta in the UK, but I don't care. This thing was AMAZING. I also had the shop's blend of Irish Breakfast Tea, which was equally as good.
Then it was on to the market proper: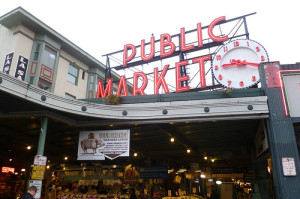 This market is the most amazing place on Earth. And I'm even putting it above anything I've seen in France. Yes, it's that awesome. If you're looking for fresh food – whatever it may be – you can find it here, along with flowers and gifts and skincare and anything else you can imagine. It's a very cool place. Even better? FREE SAMPLES OF FOOD! So yes, I sort of had a second breakfast while tasting such delights as chocolate-covered cherries, a variety of jams and butters, cheeses, teas, fruits, etc.
But second breakfast soon became third breakfast. I swear, I thought I was a Hobbit that day. I walked by this wonderful bakery called Piroshky Piroshky and the smell that wafted from its open door stopped me dead in my tracks. It was this wonderful scent of cinnamon and bread and honey and all things heavenly. The next thing I know, I'm inside and ordering a cheese roll: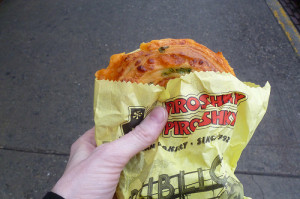 I ate the whole thing. I wasn't hungry, but I still ate the whole thing. Because IT WAS good. At that point, though, I was feeling a little too full, so I went back to my hotel to digest and relax. Lunch time came and went and once I started feeling as if I might not explode, I hit up The Tasting Room, which is also in the market. It's a place where you can go to taste a variety of Washington wines. I took on four reds and three whites and fell in love with a sparkling that tasted like a mix between champagne and apple cider. The Tasting Room also gave me my first taste of Beechers Cheese, which is a local institution. The cheese plate convinced me to visit the actual shop in the market once I was done with the wines.
So that's what I did. I went to Beechers. And did more cheese tastings. I ended up buying a small block of the Flagship, which was my favorite. I added on crackers because I thought since I was having a semi-late night, I might do dinner as cheese and crackers once the evening was up.
But I didn't stop there. Oh, no. In my gluttony, I also ended up with some macarons from Le Panier and a chocolate-covered caramel apple (that I couldn't completely eat, but it was very very good). It was only knowing that I had booked a walking tour for later that evening that made me feel better as I snacked in the hotel room.
Yes, I spent an entire day at the market, pretty much. And I am not ashamed to admit I returned there often during my trip.
At 6 p.m. Monday evening, I went on a walking tour with Spooked In Seattle. Yep, I did a ghost tour. And it was one of the only ghost tours I've done that was actually a little scary. We visited some locations I could truly believe are haunted and listened to digital recordings taken in some of those locations. But even creepier? I snapped some photos of the ever-controversial "orbs."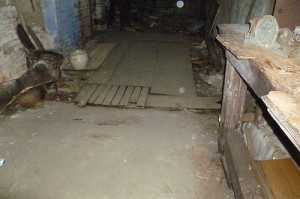 This made me a popular subject with the others on the tour. Everyone wanted to see my haunted photo. But I still had to walk back to the train station by myself. Not scary. Not scary at all. I also really liked the neighborhood where the tour took place: Pioneer Square. Lots of great stories. Being a writer, I love stories.
I ate my cheese and crackers for dinner and was done for the day. I watched a little television and went to sleep, only to wake up the next morning, wondering the serious question: where shall I have breakfast?
I eventually decided to go all out and visited Lola, which is a highly-recommended restaurant in the area. It's one of the Tom Douglas restaurants, and I guess he's a very popular chef in the Seattle area (he has quite a few eateries in the city). I had this: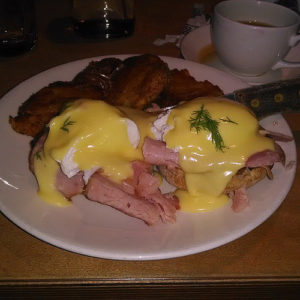 I couldn't eat it all. Believe me, I tried. I really tried. But yes, it was as good as it looks.
Properly fed, I stumbled into the Westlake Shopping Center, where I discovered a Nordstrom Rack. I spent some time browsing through clothes and accessories, but nothing really caught my fancy. Which is probably a good thing. I had plans to take the monorail to Seattle Center to see the Space Needle, as it was.
The monorail was cool. I mean, I've ridden monorails before (thanks, DisneyWorld), but it's still neat to be on one as they seem to be so rare in the world. It's a short ride to get to Seattle Center and the view would have been amazing with the Space Needle, had it not been foggy. In other words, you could see the bottom of the needle, but the top was a blur. Which pretty much had me decided that I wouldn't want to go up in it.
I had other ideas, anyway. I was off to the EMP, which sounded like the coolest museum ever. And you know what? It was! Not only did I get $7 off my ticket with my GeekGirlCon badge, but the museum has an awesome exhibit of fantasy items, along with a science fiction collection. There was also a horror exhibit that featured the original manuscript for Bram Stoker's Dracula. Then there was the music exhibits, including tributes to both Jimi Hendrix and Nirvana. I saw such wonderful things like: the guitar Jimi Hendrix played at Woodstock, Data's uniform from Star Trek: The Next Generation, Mr. Pointy (the stake) from Buffy The Vampire Slayer, the original manuscript for Tolkien's The Lord of the Rings (with handwritten notes and drawings!), costumes from The Princess Bride, Darth Vader's lightsaber, Captain Kirk's chair and much, much more. I spent the entirety of the morning at the EMP, because it was so freaking cool.
I also hit up the museum shop to buy some souvenirs. I found an awesome postcard of a giant octupus attacking Seattle (which turned up in several souvenir shops), as well as a stuffed werewolf and a print of one of the fantasy archetypes featured in the fantasy exhibit.
Eventually, as always happens. I got hungry. There's a food court in Seattle Center that has a place called Pie. It's simple, but it serves savory and sweet pies. I went for a chicken tarragon pie and a hard cider. I followed that up with a mini-cheesecake from The Confectional. I wasn't being as gluttonous as the day before, but I was still eating well. But hey, I was spending most of the day on my feet!
The fog cleared out enough for me to get one good shot of the Needle: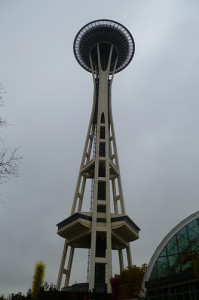 I walked around and looked at some more shops, but was ready to attempt some real shopping back near my hotel. So I returned to the Westlake area. I did spend some time in an H&M, but I goodn't help myself: I went back to the market.
There, I bought souvenirs. I got some wonderful tea from Marketspice. I got some chocolate-covered cherries from Chukar. I got some pumpkin butter. I bought things to bring back home that probably won't last very long. And I just walked around the market, taking in the scent of fresh local food. So awesome.
I had reservations for Etta's (another Tom Douglas joint) that evening, so I went back to the hotel and changed clothes. Although Seattle is very casual, I wanted to dress up a little for a nice three-course meal. I indulged in Seattle Restaurant Week there and chose a squash soup that was so good that I very nearly licked the bowl. I also had the "Rub It With Love" salmon, which did taste as if it were made with much love. I also especially loved the cornbread pudding that was served with it. I ended the meal with a slice of coconut pie, which was so divine, but so very very rich. I couldn't finish it. With this meal, I had another local Riesling. It was the perfect end to a perfect day.
The next day, I returned to Missouri with a very full belly and nothing but love for the Emerald City. Here's hoping that I get to return again (I'm already making plans for GeekGirlCon 2014).
Meanwhile, check out all of my photos from my trip here:
http://www.flickr.com/photos/fragmentsgallery/sets/72157636907968903/