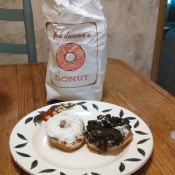 If you follow me on social media, you're probably already aware that I lost my writing gig with DVICE.com when the owners of the site decided to shut it down. I'll admit that I was utterly heartbroken because I worked with an amazing staff, including two editors who are definitely responsible for making me a better writer.
I knew, however, that I wanted to continue writing in a similar capacity, so I started applying for jobs and sending out resumes. This is, by far, the hardest part of life: trying to find a new job in a bad economy. However, the first job applied for, Tech Times, eventually contacted me and offered me a position after an interview.
Fast-forward to last week, my first week writing for Tech Times T-Lounge. And I must admit that it was probably my most enjoyable first week of any job I've ever had. I wrote about everything from dinosaurs to video games. You'll see me posting lots of links on social media to the articles I've written, so please check them out, share, like, etc.
And if you want to see what I've written so far there, you can look here.
With that being said, that doesn't mean I'm letting up on writing novels. In fact, I started the third Alex Grosjean book next month. Tentatively titled "The Return of the Titans," I wrote half of it and scrapped it. Well, I didn't scrap all of it, but as I was writing it, the story became clear and needed tweaking at the beginning. I tried to do what's called "pantsing," or writing without an outline, and realized that this doesn't work for me. So now, I have an outline and am re-working what I've already written, hopefully finishing the novel in a month or two.
I'm also working on expanding my short story, "Madame Vampire," into a novel. The idea was originally for a novel, but I decided to see if I could find her voice. I had so much wonderful feedback on the story, that it's sort of a no-brainer to bring that character to life even more. Thank you to everyone who's told me how much they enjoyed it.
So that's my update, of sorts. I know I've been rather bad about blogging here, but I'm going to try to be better, I promise. I didn't even mention last week's trip to Memphis for the Monty Python Live (mostly) event, nor have I mentioned the wonderful food I had from both Hog & Hominy and Gibson's Donuts. However, I usually review restaurants on Yelp, so if you want to know about my foodie stuff, check there.
I'll be in Dublin, Ireland in about a month, so expect lots of blog posts about rain and accents and really old architecture then.