Now that I'm home, I can blog proper about what I will refer to as "Duran Duran in Las Vegas Day." And it was really a special awesome day, full of great fun, great food, great drinks, great people and two amazing bands. I couldn't imagine Vegas ever being even better.
My morning, though, started early because my body insists on staying on Central Time, even when I'm in Pacific Time. I woke up at 4 a.m., but fortunately, forced myself to go back to sleep, and then woke up at my usual 7 a.m. That was still earlier than I wanted to sleep, but I get it: I'm a morning person. The good news is that when I stumbled downstairs to get coffee, there was no line at Starbucks.
I then spent the morning playing Pokemon Go, all over the casino floor and Mandalay Bay property. Because it's cheaper than gambling (I will admit dropping $20 into a Wonder Woman slot machine, though). I wandered all over Mandalay Bay and over to Luxor. And the funny thing is that I was not the only person playing Pokemon Go: I met a lot of new and fun people in my adventures in catching them all.
Eventually, though, I had to eat. I had a reservation at Fleur for lunch, so I made my way over there to drop $75… on lunch. Without blinking. But the waiter was good and kept upselling me on stuff. Sure! I want avocado on my jalapeno BLT and fries! Sure! I want espresso with my dessert. It was totally worth it, though, because the recommendations he made really worked well with the meal. So here's my fancy schmancy BLT (and it really was good):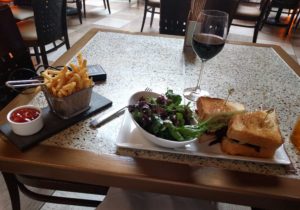 The wine was a lovely French Bourdeaux, something I have a hard time finding in the Midwest. There's nothing like a good Bourdeaux, and this one was DIVINE.
Of course, I did dessert, too, which was a duo of Creme Brulee with my favorite thing in the whole world: a chocolate macaron.
And of course, the espresso really did pair well with it. And I'm all for paying a lot of money for a good meal with a good atmosphere.
While I was dining, I also saw a Nick Rhodes doppleganger. For those not in the know, Nick is the keyboardist for Duran Duran, but had to take some time off from the tour to deal with a family emergency. He's still not on the tour, and I would just like to take a moment to let him know that we Duranies are worried about him and thinking about him and sending our best wishes, thoughts and prayers.
I followed up lunch with more Pokemon Go hunting, but then that turned into shopping. There's a store at the shops there that is NOTHING BUT SOCKS. I have a sock obsession, so I bought three pair. And managed to find more souvenirs, including yet another cat figurine (this one Egyptian-inspired) for my curio cabinet.
As I was heading back to my hotel room, I ran into some friends I've known since DuranDuranFans.com (I used to run that site back in the day before everyone stopped using message boards and started using Facebook and Twitter). We chatted for a bit, and then I went to go change, because they had scheduled a meet-up for their own site Daily Duranie. I quickly changed, touched up my make-up and got ready because I had the meet-up, dinner and the concert.
I was having a moment and felt pretty good about myself once I got all dolled up. The meet-up was SO MUCH FUN and we waxed poetic about our love for the band. I had a Seabreeze to get things inside of me up and running, and hating having to leave a little early to go to dinner, but dinner is an important thing, so yay!
My reservation was at RX Boiler Room, which is literally the coolest restaurant I've been in. It's got a steampunk vibe and the decor was AWESOME. I was seated in a little nook with a table with red curtains and it really reminded me of one of the Robert Downey Jr. Sherlock Holmes movies, for some reason.


The food was amazing, too, and will stand at the top of my list of "Best Meals Ever." I had a special that was called a Fried Green Tomato Stack: fried green tomatoes stacked with mozzarella and pancetta and greens and it was so amazingly good. I also loved that the dishes here are small plates, so that mean I had room for more dessert. I went for the Cola cake (house-made cola) with orange whipped cream, raspberry sorbet and some liquid nitrogen Hershey kisses sugary things (still not sure what they were, but YUM!). I also accompanied my meal with a drink called the Barbarella (that movie was where Duran Duran got their name, so I HAD to).



My meal ended just in time to head over to the Events Center for the concert. Chic opened for Duran Duran and I don't think I've shaken my booty so hard since I was much younger. Their version of "Let's Dance" brought the house down. I honestly wondered how Duran Duran could top that. But they did and put on a slick show that was entertaining, fun and just a really good time. Which is usually the case with that band.
My one complaint is that the show was almost TOO slick. There wasn't a lot of one-on-one interaction with the audience, but still, Simon LeBon does a great job of making everyone feel included in the show, even the people in the back. And maybe that's the point of not focusing any effort on individual audience members. The set list hasn't changed since the tour started, but since this was the first (and only) time I'll hear it, I enjoyed it. But what I loved most weren't the classics, but the new songs. "Pressure Off" was OFF THE HOOK. Especially when they rained confetti down upon us. And "What Happens Tomorrow" was beautifully poignant.
I danced and danced and my stomach started playing havoc with me towards the end (I blame the Barbarella), but it was a fantastic night. After the show, I met up with another dear friend at the Skyfall Lounge (named after the James Bond movie) and experienced an amazing view of the Strip.
And then it was over, it was the next day and I was wandering through airports with really bad food and hoping my delayed flight would arrive soon. I got home this morning at 3 a.m. (about three hours later than I should have). But if I had to do it all again, I definitely would. At least I started my final hours in Vegas with a champagne brunch buffet, because when in Vegas…