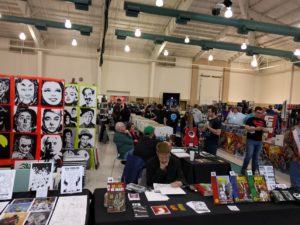 I'm pretty sure that after last year, I said I wouldn't go to so many conventions, and yet, here it is, 2018, and I've got a lot already planned. I'm doing as many guest spots as last year (yet), but I plan on attending a lot of conventions, regardless.
What can I say? I love conventions. They're fun. I get to meet people with similar interests to mine. I get to cosplay. I get to meet celebrities in my fandoms. What's not to love?
So I've got a busy year planned, in spite of myself. So here's what's on my con list this year (and I'm sure that this isn't everything). The ones with the * mean that I will be a guest at that particular con. The rest are just for fun.
Anime Blues Winterfest Remix, Memphis, TN (January 13)
Dyersburg Geekery & Cosplay Bowling Night, Dyersburg, TN (January 27)
Gallifrey One, Los Angeles, CA (February 16-18)
Lexington Comic & Ton Convention, Lexington, KY (March 9-11)
Dyersburg Comic and Pop Culture Con, Dyersburg, TN (March 17)
WHOlanta, Atlanta, GA (May 4-6)*
Superman Celebration, Metropolis, IL (June 7-10)
Fanboy Expo, Knoxville, TN (June 29-July 1)
Penned Con, St. Louis, MO (September 20-22)*
Clarksville Doctor Who & Steampunk Con, Clarksville, TN (September 28-30)*
Memphis Comic & Fantasy Con, Memphis, TN (November 16-18)
There's also a trip to Walt Disney World happening Halloween week, too! So here's to another fun, yet busy year!