One thing about spending most of the day at a theme park and the evening in the hot tub is that you sleep really well. And sleep I did the night before my final day at the Disneyland parks. I awoke early in the a.m. refreshed and ready to go, getting myself lined up for Disneyland before the gates opened at 8:30 a.m. At first, it didn't seem like the crowds were as bad, but they certainly felt bad later… I'll get to that, though.
I began my morning with breakfast, choosing the Mickey Mouse chocolate tart at the Jolly Holiday Bakery. I would have preferred a dark chocolate, but milk chocolate seems to be the Disney preference, at least in California. It was still really good, and I'll admit it, I ate Mickey's face first:
I actually had a plan for this park, and although I switched some things around, I'm glad I went with it. Early on, it wasn't a problem, but later in the day when the lines got huge, I was grateful I'd thought some things through. I headed towards Adventureland. Since the first thing I saw was the Indiana Jones ride, I hopped into line, where I waited all of 10 minutes. It was a lot of fun and yes, I did ride it again later. The line itself for Indy is interesting and takes you through this temple setting. The theming was also quite good.
After Indy, I settled in for Pirates of the Caribbean. I almost didn't get on this ride, as I've done it a million times at WDW, but someone told me the Disneyland version was better, so I hopped on. I'm so glad I did. This version of POtC is a million times better than the one at Disney World! It's longer and there are more scenes. I'm so glad I didn't pass it up. Following that, it was Haunted Mansion, which is cheesy, but the effects make it awesome, as always. This ride was shorter than that at Disney World, but still charming. The mansion, itself, though is is very different and is actually a New Orleans style home, rather than the manse I was used to.
The next step in my plan was to hit Tomorrowland. By this time, 10 a.m., the park was already packed. I got a fast pass for Star Tours and then waited in line for nearly an hour for Space Mountain (I was just waiting out the fast pass). I realized that Disneyland's Space Mountain only goes around in one direction, taking the same right turn over and over. Unfortunately, I didn't realize this until I got on the ride and started getting queasy. I don't like things that do circles in just one direction. I don't like them at all. So I will never ride Space Mountain at Disneyland ever ever again. Lesson learned. I had to sit down after and regain my bearings (and my stomach).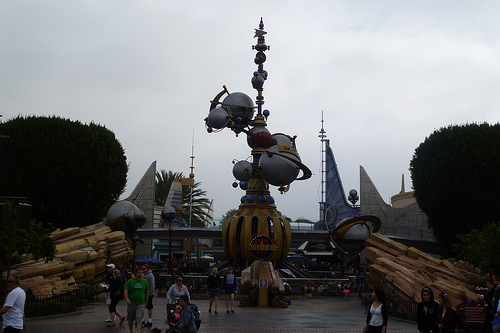 Fortunately, it was time for lunch, and I thought some food might settle my unhappy belly. I got one of those awesome corndogs that Disney does so well.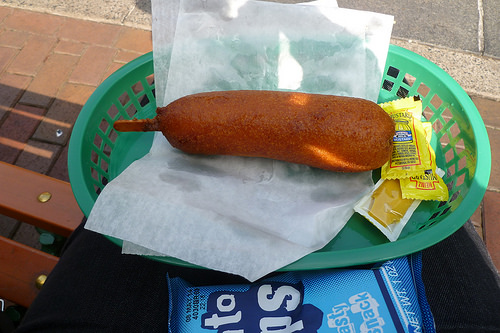 By the time I was done eating, it was time to ride Star Tours. And boy, has it changed since I last rode it. I haven't been to a Disney park in a good long time (probably before the three prequel Star Wars films were released), so the "new" version of the ride blew my mind. It was so good! I wanted to ride it again, but I didn't want to wait via fast pass and I didn't want to stand in line, so that didn't happen. Why, oh, why, doesn't more rides at Disneyland have single rider? WHYYYYYYY?!?!?!
At this point, the crowds were getting to me. It doesn't help that two major rides (Splash Mountain and Big Thunder Mountain) are under refurbishment, which means more people standing in other ride lines, but it was just miserable. I decided to get ice cream at the Gibson Girl ice cream parlor. After picking up my chocolate chip cookie sundae, I didn't even have anywhere to sit down and enjoy it. I took up position on Main Street's curb as people bumped into me and nearly walked all over me (really, look where you're going!).
I finished my ice cream annoyed and walked back to the hotel. Fortunately, a nap lifted my spirits. Napping in the middle of the day while doing Disneyland is a great idea, by the way. I've done it a bit during my Disney World trips.
After my nap, I headed back to the park, which was even more crowded than ever. I kept checking the line for Alice In Wonderland, but it never let up, so it's the one ride I didn't get to do. However, Matterhorn, thank goodness, had single rider, so I managed to get on that.
I also did some smaller rides like Pinocchio's Daring Adventure and a Winnie The Pooh ride. The rest of the rides had long lines again, so I  said screw it and did some shopping instead. I bought pirate socks and a pirate keychain, along with a few other souvenirs.
I had a dinner reservation at Cafe Orleans, so I headed there next instead of braving any more lines. They got me in quickly and I proceeded to eat a wonderful meal of pommes frites, a chicken gumbo crepe and beignets that were to DIE for. I actually only ate three of the beignets as I was getting full, so I took the other two with me. My original intention was to save them for breakfast, but they didn't make it out of the park.
I walked by the Jungle Cruise and saw that the wait was 5 minutes. I hopped on immediately. Now this is my least favorite ride and one of the lamest rides in all of Disney-dom. Or so I thought. But I did it in the dark and it was actually pretty cool. I don't know if it's because Disneyland's version is better or that it looks better at nighttime. I was almost ashamed that I liked it so much. I also re-rode Indiana Jones, this time using the single rider line, which takes you through forbidden parts of the temple (well, forbidden to most). In fact, I almost got lost in the temple, but fortunately someone who'd done it before knew where to go. Seriously, that was part of the adventure. I enjoyed the ride even more the second time around.
I checked Alice In Wonderland again, but the line was still huge. I gave up and sat down on a curb again and ate my beignets. I thought I'd do some final souvenir shopping, but the stores were so packed that I gave up after purchasing a single hoodie.
I've learned my lesson, though: never visit Disneyland during Presidents Week. Never never again. However, I will be revisiting Disneyland every year, as I can afford it, along with my annual convention attendance. I fell in love with Disneyland and decided I prefer it over Disney World: it's cheaper to visit because you need less time there, it's much easier to travel through the parks (and easier on the feet as everything's closer) and most importantly, THERE ARE MORE RIDES.