In my continuing coverage of my recent Southern California vacation, today I'm going to write about my second day in Anaheim and my first at the Disneyland Parks, where I visited Disneyland's California Adventure.
I was really excited because my all-time favorite ride is Tower of Terror at Walt Disney World and DCA happens to have its own version of it. But first, I had to stand in line to get into the park and then stand in line at the Starbucks at DCA (entitled Fiddler, Fifer & Practical Cafe) to begin my morning with a sugar buzz. I chose a caramel walnut sticky pastry that was oozing with goodness when it arrived in my hands. I ate it quickly and awaited rope drop (because visitors are let into part the park early, rope drop is the actual opening of the park and its rides).
The park was crowded already, but I've found that getting there early is usually a good bet on avoiding long lines. I was wrong on one count, though: the line for just a fast pass for the new Radiator Springs Racers in Cars Land was actually longer than the actual ride line at the time. Which, I might add, MAKES NO SENSE. Why wait in line to ride later when you could have just ridden it then? I mean, DUR!
I get ahead of myself, though. Because my first order of business was making it to my beloved Tower of Terror. The wait was about 5-10 minutes and as always, I loved it. It is different from the one at WDW and I'm pretty sure it doesn't go quite as high (although that might just be a SFX thing they do at WDW), but it was still freaking awesome and still my all-time favorite. I knew I'd return to that later.
Now, back to the Radiator Springs Racers. Cars Land at DCA is relatively new, so it was packed with people. The Radiator Springs Racers line was up to 70 minutes by the time I arrived, but I hopped into the single rider line and rode it in 10 minutes flat. Really, that's the only way to go when that's an available option. It was a lot of fun and I couldn't help but think that this is what Test Track at Epcot should have been. The theming of it and the rest of Cars Land was amazing – the level of detail blew my mind. I'm not a huge Cars fan, but I can appreciate the work put into this part of the park. I spent a lot of time just wondering around admiring it:
At this point, I also made sure to get a Photo Pass, which is a great thing to have, especially if traveling solo, like I often do. Disney photographers take photos and then put them on this pass. You can access the photos later online and purchase the ones you like. Even better, though? The photographers will also take photos with your own camera. It's a lovely service that Disney has offered for years.
After wandering around Cars Land, I started to explore other areas of the park. I stumbled upon Ariel's Undersea Adventure, and being a massive fan of The Little Mermaid, HAD to ride it. Yeah, it's a kiddie ride, but at Disneyland, even the kiddie rides are amazing. Of course, after that, I felt a little peckish. It was time for that most famous of all Disney treats: the cinnamon goodness of the churro:
Satiated, I chose to ride Goofy's Sky School, which is a kiddie roller coaster and probably my least favorite ride ever. It was so rough and throws you around so much that I ended up with bruises! Did. Not. Like.
After that, I decided to tone things down at Mickey's Fun Wheel. I chickened out of the swinging cars, because they honestly looked more terrifying than anything I've ever seen (and I've heard rumors they even keep barf bags in those cars), so I went simple and just went around the regular non-swinging cars to get a great view of the park. I wouldn't call Mickey's Fun Wheel a lot of fun, but it was relaxing and let me rest my feet and body for a few.
By the time this ride was over, though, I was ready for some real excitement. So I hopped in the next line over for the California Screamin' roller coaster. Now, I usually don't like roller coasters that do loops (this one has one), but for some reason, this was the smoothest and most fun roller coaster ride I've experienced in some time. And I absolutely loved it! In fact, this was another ride I knew I would return to later. And I'm now counting it as my favorite roller coaster of all time.
Lunch time arrived and my stomach did a lot of rumbling. I had already read about these cone things over at the Cozy Cone Motel in Cars Land, so I made my way back over to that part of the park and ordered something called a Chili Cone Queso. It was basically chili with fritos and cheese (loads of cheese) served in a cone made of bread. It was AMAZING. It also paired well with the pomegranate limeade I chose for my drink.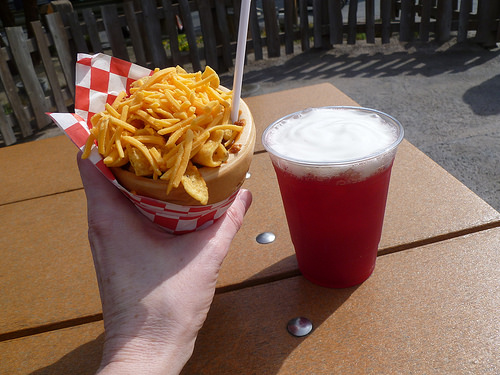 Then I realized something very important: I did not have any Mickey ears! I must have Mickey Ears in a Disney park because it's tradition! So I went shopping and ended up in the Hollywood area of the park again (where the Tower of Terror looms over all). After being surprised by some costumes from Once Upon A Time (one of my favorite TV shows) in some store windows, I wandered into a store and found the perfect set of ears: they were steampunk. STEAMPUNK EARS. How could I refuse? My timing was perfect because right after that, Mickey Mouse himself popped out to say hello.
After meeting Mickey, I felt hungry again and thought a snack was in order. So I went to the candy shop and ordered a peanut butter sandwich, as I'd read those were very good. They also look a lot like the s'mores sandwich, so I inadvertently got that instead. This, however, turned out to be a very happy accident, because it was divine. So I didn't complain, but just enjoyed the mistake because I think I probably ended up liking this better than I would have the peanut butter.
At this point, the park was full, nearly to capacity. And I was tired. So I did a very smart thing: I walked back to the hotel and took a nap. Two hours later, I was refreshed and ready to get back to the park.
When I arrived, I went straight for the Tower of Terror. The wait was only 20 minutes (although it only felt like 15), so I had to do it again. I just HAD to. This was one of the few rides at DCA that didn't have a single rider line, but it was worth the wait, even if the wait had been longer. I enjoyed the ride again, although I did realize that the drops aren't randomized like the one at WDW. I didn't care, though. This is still the best ride ever.
Thinking to keep the thrill factor up and having time before my dinner reservation, I then went back onto California Screamin.' There, I ran into one of my Gallifrey One friends, who happens to work as a Disneyland Cast Member. I rode the coaster again and enjoyed it even more the second time.
Dinner time, however, was fastly approaching. I made reservations for the World of Color dining package at Carthay Circle, one of the few table service restaurants at DCA. I was not disappointed. I enjoyed an amazingly good old-fashioned daquiri in the lounge (I had a few more during dinner). Dinner itself was superb. The World of Color package is pre fixe, but I still ordered some fried biscuits on the side because everyone recommends them. Those were amazing, so very very good. I almost couldn't stop eating them. My appetizer was a tomato soup that was quite good, followed by an entree of some wonderful salmon and topped with one of my favorite Disney desserts: chocolate mousse with crunchy bits. I was in dining heaven. I also ran into some fellow geeks when I commented on someone's N7 hoodie and we got to talking about things like Doctor Who.
After dinner and drinks, I still had some time to blow, so I rode the Monsters, Inc. ride (I forgot the name of it, but it was something about Mike & Sully). It was really cute and I liked the personalization at the end (how many times would I hear someone saying "Nice ears" during this visit?).
Well-fed and still a little drunk, I ambled over to the World of Color viewing area reserved for Carthay Circle diners. I sat down an hour before the show started and struck up conversations with many other people, most from up north, who like me, were escaping the cold. The time flew and the World of Color show began, which is this wonderful event with fountains, projection, fire and music. It was spectacular.
But my feet were hurting from standing by the time it was done. It seemed to take forever to escape the park (as it was closing and everyone was doing just that), but when I got back to the hotel, the obvious next thing to do was get into the hot tub… again.