I really did mean to blog while I was enjoying the sunny weather of Southern California over this past week, but I just couldn't bring myself to do anything that felt remotely like work. So if you expected day-by-day posts about my trip, I'm sorry, but I hope you saw my posts and photos via social media. Obviously, I had an amazing time, both at the Gallifrey One convention (which I covered over at my other site FanGirlConfessions.com) and Disneyland. It was an entire week of being a kid again, dressing in costumes (or mouse ears) and just having a good time for the sake of having a good time.
I did manage to squeeze in a little work: I networked with a few more authors, as well as met some really cool people from NASA (I write a lot about NASA missions over at DVICE). But mostly, I just laughed a lot, talked a lot (and lost my voice because of it) and danced and sang and celebrated that wonderful thing we like to call life.
So let's focus on my post-Gallifrey One trip, shall we? I woke up Monday morning, fighting the con blues (and an extremely scratchy throat from all the talking), and went to pick up my rental car from Alamo. They let you pick out what car you want, so I went with a vibrant red Toyota Yaris, not because it was cool, but because I hoped it would be easy to pick out in a large parking lot. I've lost my share of rentals in parking lots, so that's my strategy now. I drove to Howard Johnson's in Anaheim and attempted to check in and was notified that I couldn't do so until later. It was President's Day and rooms weren't ready yet.
Fortunately, my friend Brian Uiga, invited me to Mission Viejo for lunch and a ride in Herbie, which I might add, was AWESOME. The whole experience felt so very Southern California, and the weather was probably the most beautiful I'd seen it during my trip. Here I am with Herbie:
Then it was time to finally get checked in. I really liked the hotel. It was sort of outdated, but in a nice retro kind of way. It was also clean and had a hot tub, which really, is all I require (oh, and a comfy bed). Once checked in, I drove to Downtown Disney where I saw a dragon made of LEGOs: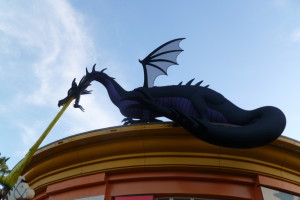 And then I shopped because World of Disney is awesome. I even ended up with new pajamas:
They're very appropriate, don't you think? I also bought a great birthday present for my great-niece, but needed it shipped because it was huge. But most importantly, I had this wonderful chocolate and caramel-covered marshmallow thing with sprinkles that I got from Marceline's Confectionary:
I can't remember the exact name of it, but it was a Valentine's Day special item and it was beyond yummy.
If you've read my other travel posts, you know I'm all about food. I love food. And this trip was no exception (see above photo). So I like indulging in great meals. I'd done a little research and decided on a place called Roy's for dinner. The food is best described as Hawaiian fusion. It's a chain, but seems to get great reviews, so I figured I'd give it a shot. I started with this wonderful drink, a Hawaiian martini: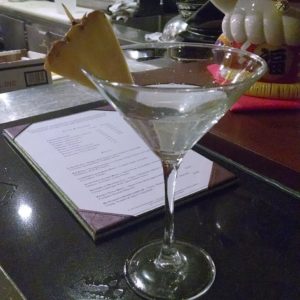 I followed that with a prix fixe menu, because the value was good and I wanted to try things that maybe I wouldn't have tried otherwise. I started with a lobster bisque that was to die for. Seriously, it was so good that I was trying not to drink it from the bowl like a redneck. That was followed by the most tender pork I've ever eaten in my life, seasoned to perfection. The dish was called Pork Osso Bucco. It also had fingerling potatoes and brussel sprouts. Dessert was my least favorite, but still good. It was a butterscotch and miso pudding. It was cold, though, and I felt like it would have tasted better warmed up. I still ate most of it, so I guess I can't complain much, right?
So with a great meal in my belly and a warm drink coursing through my veins, I went back to the hotel and discovered the wonder that is the HoJo's hot tub. Needless to say, I enjoyed that hot tub every night of my Disneyland adventure.